Celebrating 130 Years
A History of R. J. Barber & Sons
R. J. Barber
The story of R.J.Barber began in 1850 when Major John Barber came from Fermoy and was stationed as Barrack Master in Birr Barracks (Crinkill Barracks). He returned to Fermoy where he established a watchmaking and jewellery business in 1869.
His son John Joseph (J. J.) married Hannah Treacy from Birr. They had a large family and two of the boys became involved in the business. J.J. remained in Fermoy and Robert John (R.J.) opened a business in Birr in 1890. The first place of business was Cumberland Street now Emmet street, then Bridge Street and finally on to Main Street in 1910 where they continued to trade until 2005.
R.J. Barber was married to Josephine Mary Hackett from Kildare. She worked at her own millinery business. They had six sons  all of whom worked for some time in the business. R.J. was a qualified watchmaker and astute businessman. He built up a very good trade over the years.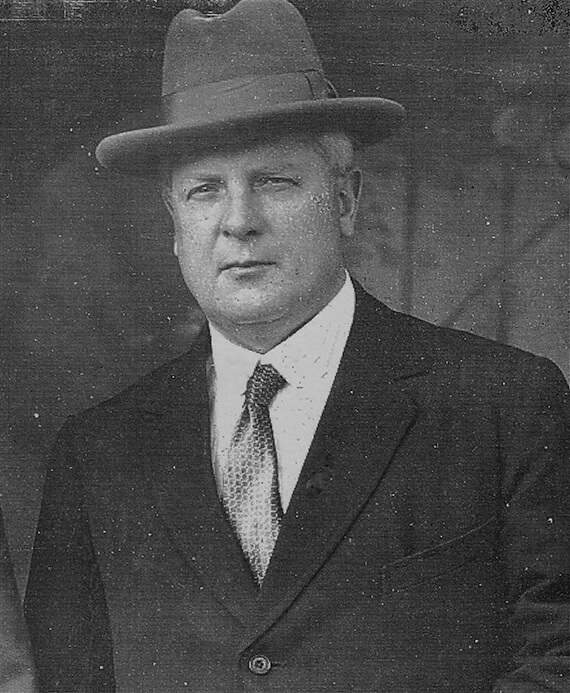 Vin Barber
In 1943 Vin took over the business. He was an expert craftsman who executed repairs with care and diligence. He built up a strong reputation in the Midlands for quality, value and service. He was a great believer in the preservation of our Heritage. He retained the original shopfront at Main Street despite moves towards modernisation with the neon signs and tiled facades of the 1970's. He was justly rewarded for his foresight when he received the National Award for the Best Traditional Shop front in 1978. He was married to Ciss Kelly from Birr. She was very active in running the business. She loved Waterford Crystal and established quite a reputation as a leading supplier of crystal in the Midlands.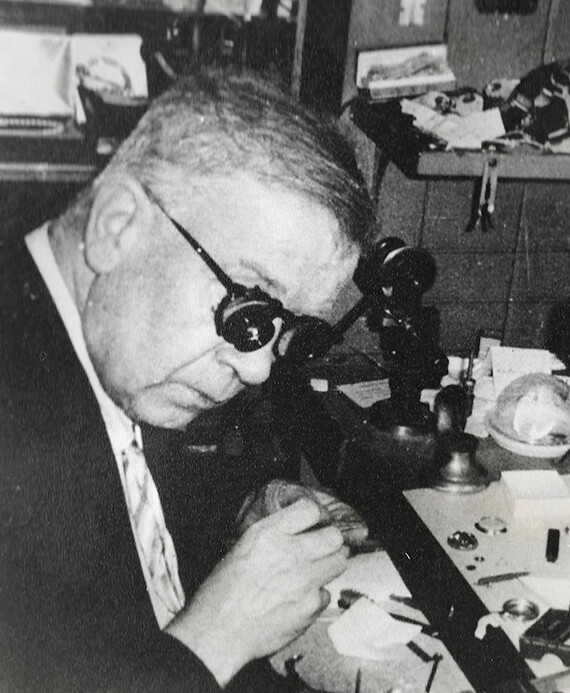 Paul Barber
Paul served his apprenticeship in watch-making under his father Vin. He also attended the Irish/Swiss Institute of Horology in Dublin. He qualified as a watchmaker in 1970. He saw the need for modernisation and revamped the shop in 1984. He made it more customer-friendly by adding more display cabinets, allowing easier movement and the opportunity to browse. When his father died in 1985 Paul took over the business. He had married Bridget Cahill, a primary school teacher from Birr in 1973 and they worked together in the shop. He encouraged her to study for her Retail Jeweller's Diploma with the National Association of Goldsmiths in London. She received her Diploma in 1986. Paul has designed the Chains of Office for Birr Town Council and Birr Chamber of Commerce. He designed the Offaly Medallion of Honour and other trophies and medals. During his term as President of the Retail Jewellers of Ireland he designed the Perpetual Trophy to mark the 25th anniversary of the Eurovision Song Contest.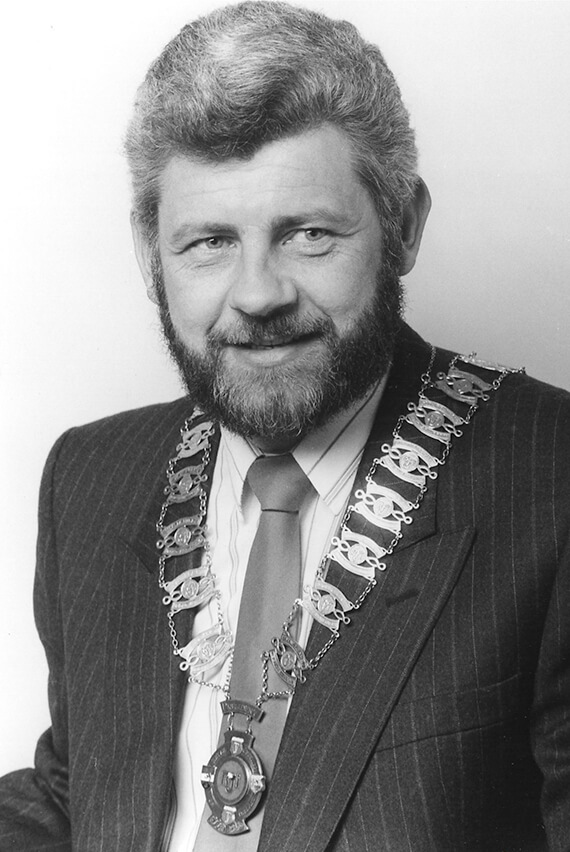 Cathal Barber
In 2001 Cathal qualified as a watchmaker with the Irish/Swiss Institute of Horology in Dublin. During the course he was introduced to jewellery- making. He loved it and decided to follow in that line of business. He studied goldsmithing with the Crafts Council of Ireland in Kilkenny and graduated in 2009. He was an award -winning student and went on to win 1st prize at the R.D.S. crafts competition. He has made exquisite pieces of bespoke jewellery for many high-profile clients including Michelle Obama and has added a whole new dimension to the business. Cathal was instrumental in the decision to move to a larger premises on O'Connell Street in 2005, a decision that has proved wise. He married Michelle O'Connell from Kilkenny in 2013. A fine art graduate and former gallery owner Michelle now looks after the business accounts. They have two little girls, Elizabeth and Rachel who both love crafts, so who knows, maybe you'll see them sitting at the jewellery bench soon!
In 2013 Paul passed on the business to Cathal. Paul preferred not to retire and he continues to work alongside his son.
Through the years R.J. Barber has treasured their customers. In training staff members Cathal reminds them to be courteous, caring and discrete at all times. He emphasises that customer care is of paramount importance in the retail trade and that every customer should enjoy their retail experience and feel appreciated.